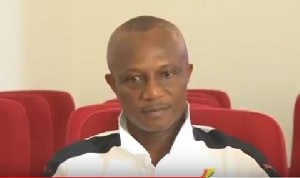 The former Ghana midfielder Mohammed Polo says the Harambee Stars were very impressive against the Black Stars and has urged coach Appiah to work on his tactic.
The former Hearts of Oak midfielder says he was overwhelmed by the performance of Kenya in the 1-0 victory over Ghana in the Africa Cup of Nations qualifier on Saturday.

An own goal by Udinese defender Nicholas Opoku was enough to give the hosts their first win in the group, after losing 2-1 on opening day to Sierra Leone.

"It was an unfortunate result. I didn't expect that result against Kenya but this is a lesson that every country is improving in football," Polo told Goal.

"Ghana can't afford to miss the Africa Cup of Nations in Cameroon next year so Kwesi Appiah must improve his tactics and game plan in the subsequent games."

"Kenya were very impressive but it's not dicey for Ghana at the moment because we're still a powerhouse in the game," he added.
Polo also advised Appiah to work on his strikers' conversion rate.

"I was disappointed with the chances the players fluffed in the game. Every good team make use of chances given them but it was terrible in our case," he said.

"The coach has a lot I'd work to do. He must on the team's finishing because what we witnessed was very terrible and that was one of the main reasons why we lost the game."

"There still four games to be played and I want to see the improvement," he added.

Despite the defeat, Ghana are still leading the log with three points due to a superior goal difference as Ethiopia host Sierra Leone in the other game on Sunday.