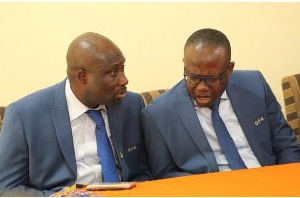 Ghana Football Association president Kwesi Nyantakyi insists he has never had any problem with his vice George Afriyie but it was the latter who began all the recent brouhaha.
Nyantakyi fell out with his vice few months ago after Afriyie allegedly sent a text message to his boss describing him as 'greedy and selfish'. Although, youth and sports minister Isaac Asiamah met both men to settle the impasse, they still don't talk to each other at public functions.

''The current vice president [George Afriyie], I don't have a problem with him. He rather had problems with me but I have not told him I have a problem with him," Nyantakyi told Joy FM.

"The issues came up and we have resolved them. It is strange for people to make such generalisation [that I've always fallen out with my previous vice presidents because I was greedy]. I have worked with four vice presidents so if once upon a time, I have had a problem with one, can you generalise it?

''I didn't have a problem with Fred Crenstil nor Fred Pappoe [and] they are my friends especially Crenstil," he said.
He added: ''Jordan Anagbla [who was the GFA vice] died, so I had a problem with him before he passed away? It doesn't make sense to make such generalisation.

''When people don't like you they try to find problems with you just to give you a bad name, it is unfortunate,'' he said.

Nyantakyi has reiterated that he will vacate his post as Ghana FA president at the end of his tenure in 2019 and concentrate on his positions at Caf and Fifa.

Afriyie and Kurt Okraku have publicly expressed their interest to replace Nyantakyi.