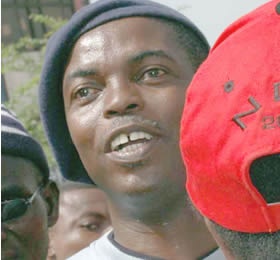 Wed, 8 Aug 2007 Source: Ghanaian Observer
The matter in which a bribery allegation of US$4 million is hanging around the necks of Former President Rawlings and his wife took a new twist yesterday when the Managing Editor of The Insight, Kwesi Pratt Jnr suggested on PEACE FM that one of Ghana`s ambassadors who used to work with Scancem paid monies to both the NPP and the NDC.
Speaking on that station`s Kokorokoo Morning Show hosted by broadcast ace Kwami Sefa-Kayi, Pratt further sought to suggest that it was perhaps because of such political payments that the particular ex-scancem official was appointed an ambassador in one of the earliest appointments made by the Kufuor administration.

Kwesi Pratt, who refrained from mentioning the name of the said ambassador when pushed by Kwami Sefa-Kayi sought to downplay the effect of the bribery allegation in several comments.

Though Pratt stopped short of mentioning the name of the said Scancem official who has been appointed Ambassador, it was a whisper in Accra yesterday that the person Kwesi Pratt was referring to in that muted expose can be no other than Mr. E.K. Adu, Ghana`s Ambassador to Benin.

Adu had been appointed Ghana`s Ambassador to Denmark during the first term of the Kufuor administration. GO cannot however vouch for the implications of Kwesi Pratt`s pronouncement in relation to the so-called Scancem official who is said to have been appointed an Ambassador by the Kufuor administration.

Pratt had prefaced his comments on a new `theory` of his that `It is not every truth which one says that can be backed with evidence.` He charged that `The truth is that Ghacem paid money to many politicians in Ghana. Not one. Not two. Everybody knows except those who are untruthful who will say that what I am saying is not true` asked by Kwami Sefa-Kayi to mention the names of those politicians who received money from Scancem/Ghacem, Pratt said `These matters cannot be disclosed in public.`

The shocking pronouncements of Kwesi Pratt have stirred reactions from various quarters on his outlook on the whole saga of the US$4million bribery allegation against the Rawlingses.
`What Pratt is seeking to do is to sow the message that Ghacem and Scancem paid everybody across the political divide and so if that of the Rawlingses has come up people should know that those of other leading politicians can come up. This attitude and style of Mr. Pratt is unfortunate and unacceptable and must be condemned,` Gregory Appiah, a businessman who called our officers opined.

Gregory Appiah said `E.K. Adu is a hardworking businessman who does not need to pay any money to anybody to get an appointment so tell Kwesi Pratt that if it was E.K. Adu he was referring to, he should bow his head down in shame. That is how we destroy people in Ghana.`

Pratt in his analyses on PEACE FM had sought to play down the story of the US$4 million bribe with a position that the Norwegian reports say in one breath that the money was sent in envelopes to the Rawlingses whilst in another breath the reports say the money was lodged into an account.

He also maintains that the Rawlings NDC government initiated the efforts to break the Ghacem monopoly in Ghana by introducing WACEM, a rival cement production company so how could it be that the same NDC government will be paid money by Ghacem to maintain its monopoly status.

One caller into our offices also pointed out that Ghacem/Scancem payments were not only for maintaining the monopoly status but also for buying the government of Ghana's equity in Ghacem
Source: Ghanaian Observer
Related Articles: