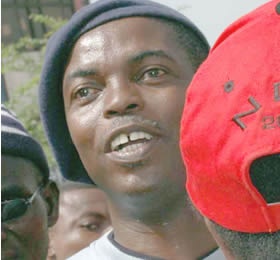 Fri, 1 Jul 2005 Source: Chronicle
?Security Chase Pratt Over Jobs Lay-Offs

MR. Kwesi Pratt, Jnr, the Managing Editor of Insight, has stated that nothing would prevent him from getting confidential documents and use it in the interest of the public.


"I have been in this profession in a full time since 1974 and I have many confidential documents and I will continue to get them.


Nothing would stop me from getting confidential documents and also use it in the public domain. In any case, in this particular document, the document was not marked as confidential and even if it was marked confidential, I would still use it," he said.


According to him, the era where the police would invite journalists after a publication, was over and unfortunate, "I think that it was clearly unacceptable for a journalist to write a story and the CID would invite him or her. I think that it is something that should not be encouraged at all."


Mr. Pratt's comment came after two policemen from the CID headquarters stormed his office to find out the source of a confidential document that he spoke about on a radio station based in Accra.

Speaking to newsmen yesterday, after he had refused to disclose to the Police the source of a Cabinet Information Paper he had quoted from on radio earlier in the week, he disclosed that, the Deputy Police CID boss had called him last Wednesday to say that they were investigating the source of some information he had read on a radio station in Accra, and requested he reported to their head office, but he declined the invitation.


Mr. Pratt said, "He also asked of my sources, but I indicated that as a professional journalist, it would be unethical to disclose my sources or to do anything which would lead to a disclosure of my sources," According to Mr. Pratt, the officer had then suggested he was sending his 'men' to interview him on Wednesday, to which he agreed but he waited in vain.


He said, at about 10.30am, yesterday, the Deputy CID had called him to reiterate that his men would be at his office at 11.30am and he again agreed, adding, "Just before his men came, he indicated that the Minister of Information had called him and that I had given the impression that I was going to be arrested and I said 'No, I hadn't called the Minister of Information.


I hadn't called anybody and that what you people got to know might come from his end.'


Kwesi said, "Basically, they wanted to know the nature of the document which I read and they wanted to know if I knew it was not confidential and I told them, I did not know it was confidential, because it was not marked as confidential."

The Chronicle's sharp ears heard the two-man interrogation team, asking Mr. Pratt for a copy of the document he read from.


He simply but gently told them, "As a professional journalist, I cannot do anything which would lead to a disclosure of my source and that it is possible that giving you any document, may lead to a disclosure of my source."


He then advised them to go to the origin of the document. He further advised them that if it was to authenticate the information he put out, then they should go for a tape of the programme from Peace FM, adding that he put the information in the public domain, because, "it confirmed that there was an attempt to deceive the workers of Ghana."


Strangely enough, the leader of the 2-man Interrogation Team sent to quiz Pratt, about his disclosure on what he termed an "attempt to deceive Ghanaian workers," was a brother of the General Secretary of the Ghana Trades Union Congress, who gave his name simply as Adu-Amankwa. He was assisted by one Charles Adama, who would also not give his designation.


According to him, there were institutions that between January, this year till now, government has actually approved the retrenchment of 1950 workers and that that other industries were on the brink of collapse and that would exacerbate unemployment in the country.

"No journalist who wants to help move this country forward can hide this information from the public and I think it is important that when journalists come across the information which points to official deception, journalists should be bold to make it public," adding that, "I have just done my duty as a journalist and a citizen of Ghana."


On the Police's request that he wrote a statement, he said, "Indeed if you ask me to write a statement, you move beyond the realm. I have no obligation and will not make any statement to the police."


He said he had not committed any offence and, "indeed if they wanted to institute criminal procedure, I would also want to find out what they are going to do to all the journalists who have been brandished, clearly marked confidential document, why me and not all of us," he asked.

Source: Chronicle