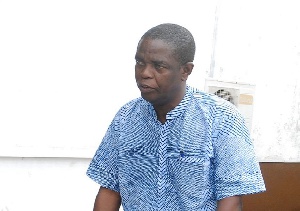 Editor of the Insight Newspaper Kwesi Pratt has questioned the criteria used in selecting diplomats to represent Ghana.
His query follows a recent comment by Ghana's High Commissioner to South Africa George Ayisi Boateng suggesting NPP faithfuls are more important than other Ghanaians.

Kwesi Pratt said the vetting of public official do not follow due process as some questions posed to them do not fall in line with the duties they are going to perform.

According to him, due to partisan politics, the right people are not being appointed to the various positions, leading to the now unguided comments from diplomats like George Ayisi-Boateng.

George Ayisi-Boateng, while speaking to members of the Tertiary Students' Confederacy Network (TESCON) in the Ashanti Region over the weekend, said his first priority as a government appointee is members of the NPP, and that if he had his own way, members of TESCON will be prioritized for various jobs.
But in a statement, after several social commentators and civil society groups have called for an apology, George Ayisi-Boateng said "I have, upon sober reflection, decided to retract the comments I made during my interaction with some Members of the New Patriotic Party (NPP) in the Ashanti Region over the weekend".

Speaking in a radio discussion, Kwesi Pratt said the right people are not being appointed to diplomatic positions.

He believes the call for him to be sacked by some group of people is in the right direction but noted it will not solve the problem in its entirely.

Kwesi Pratt called for a stringent system in appointing and vetting of these diplomats so they don't go out and disgrace us.