Kyei-Mensah-Bonsu, Asenso-Boakye and the over 20 MPs who accompanied Bawumia to inaugurate Kumasi Mosque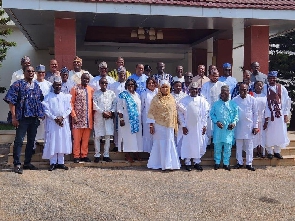 The Vice President of Ghana, Dr. Mahamudu Bawumia, is officially re-opening the renovated Kumasi Central Mosque.
The 7000-seater mosque, arguably the second largest in the country, has a 100-capacity ablution center and 30 underground washrooms.

The renovation and refurbishment of the mosque, which is now one of the most modern edifices in Kumasi, was solely financed by the vice president, in fulfilment of a promise he made to the Muslim community in the Ashanti Region.

The mosque also has a 500-capacity conference hall, two-bedroom apartments, and other beautiful electrical fittings in addition to 11 furnished offices.

In a photo that has emerged online, ahead of the opening of the place of worship, some over 20 Members of Parliament are captured in a group photograph with the vice president, Dr. Mahamudu Bawumia.

Also in the photo is the Second Lady, Samira Bawumia.
Noticeable among the MPs are the Majority Leader and Minister for Parliamentary Affairs, Osei Kyei-Mensah-Bonsu; the Minister for Works and Housing and Member for Bantama, Francis Asenso-Boakye; Farouk Aliu Mahama, MP for Yendi; and John Kumah, a Deputy Minister of Finance and MP for Ejisu.

The others are the Minister of Youth and Sports and MP for Yagaba-Kubori, Mustapha Ussif; the MP for Effiduase/Asokore, Nana Ayew Afriye; and the Mayor of Kumasi, Sam Pyne.

See the photo below: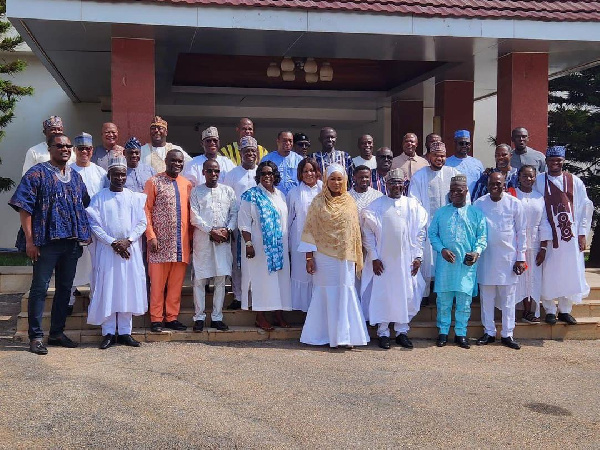 AE/WA