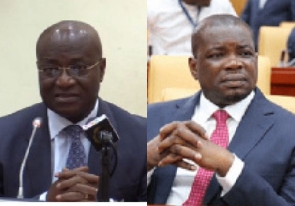 The Majority Leader and Minister of Parliamentary Affairs, Osei Kyei-Mensah-Bonsu, has taken a swipe at the Minority Chief Whip, Kwame Governs Agbodza, for his supposed attack on former Chief Justice Kwasi Anin-Yeboah.
According to him, Governs Agbodza, during the debate for the approval of the current Justice, Justice Gertrude Araba Esaaba Torkornoo, insulted the former Chief Justice for no reason against the orders of parliament, assaseradio.com reports.

Kyei-Mensah-Bonsu, the Member of Parliament for Suame, was particularly incensed by his colleague's remarks that the greatest judicial injustices were seen under Anin Yeboah.

"Governs Kwame Agbodza departed from our rules, using very objectionable and offensive words against the provisions of our own standing orders.

"And he attacked the former Chief Justice that his time witnessed the greatest number of miscarriages of justice, when he had no evidence, just such a blanket statement, and then he said the decision from the Supreme Court on Gyakye Quayson should be sensible to the people of this country," Kyei-Mensah-Bonsu is quoted to have said on the Asaase Breakfast Show on Thursday (June 8, 2023).

What Governs Agbodza said:

Kwame Governs Agbodza, the Member of Parliament for Adaklu, urged Justice Torkornoo not to be like her predecessor Anin Yeboah.
"Mr. Speaker, I'd like to conclude by urging my colleagues to support the confirmation of Justice Torkornoo, because I believe she has what it takes to serve on the Supreme Court.

"I am hopeful that she will be a more effective Chief Justice than her predecessor. Why am I stating this? Under the leadership of the departing Chief Justice, miscarriages of justice in this country attained an all-time high and must never be repeated," he said.

"The former Chief Justice must realize that his miscarriage of justice rests on his chest when he returns home," he added.

You can also watch the latest episode of People & Places here:




Meanwhile, watch the first episode of Everyday People on GhanaWeb TV below:






IB/FNOQ