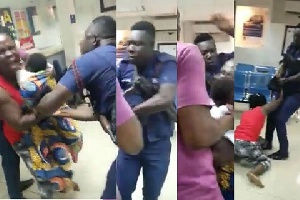 In what could best be explained as a pure typo, the family of the now caged Lance Corporal Fredrick Amanor captured on video assaulting Madam Patience Osafo and her 7-week-old grandson have stated in their apology statement that the behaviour their son put up is 'usual' of him.
The statement scrutinized by MyNewsGh.com which has been widely shared revealed that instead of the word 'unusual', the family used 'usual' to describe their son's action. The family's attention has been drawn to the anomaly.

Read full statement

Apology

The family of L/Cpl Frederick Amanor wishes to render an unqualified apology to the President, the IGP, Ms Patience Osafo, the victim and the good people of Ghana for the untold embarrassment our son has brought unto us and the nation.

The conduct of our son was barbaric, inhumane and antithesis to the professional training in the police. We have known Skalla as an amiable person, very caring and considerate and his conduct as captured on the tape is very usual of him. That notwithstanding, we are pleading with the good people of Ghana to find that forgiving heart deep down within to forgive our son.

No amount of money, words or expressions can restore the violations Ms Osafo Patience suffered. However, human as we are, offending one another is inevitable. We are therefore pleading with Ghanaians to join us to apologize to Ms Osafo Patience for the savage beatings she suffered at the hands of our son.


We are deeply sorry and pray that the Good Lord heals n consoles her. We are passionately pleading with Ghanaians to remember our son in their prayers for the good Lord to reform his twisted mind and steer him on a decent n humane path.

We are grateful that notwithstanding the sad images this video lives in your memory, you will not dwell on the negative but help us to pray to reform such characters in the service.



Thank you