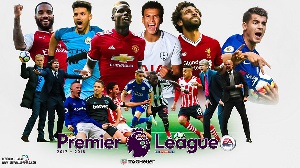 Hello good afternoon and welcome to the final day of the English Premier League season. Anyone feel like watching Apocalypse Now?
We can't offer you that, but we can offer you the end of another Premier League season. We've seen one of the great sides, some great games, and also a great gulf between the top five and the rest.

Unfortunately I can't offer you a massive amount of last-day excitement, with the table looking all-but-done.

But there is the sniff of drama at both ends of the table. Let's take a look...

Liverpool are in pole position to finish in fourth place.

Chelsea's failure to beat Huddersfield at home on Wednesday and the Reds' vastly superior goal difference means Klopp's side need only a point at home to Brighton to ensure a place in next season's Champions League.

Liverpool can even finish third - if they win and Tottenham fail to beat Leicester at home.
If Chelsea are to finish fourth, they must beat Newcastle at St James' Park and hope Liverpool lose. Anything else means Europa League football for the Blues.

From a Ghanaian perspective Jordan and Andre's Swansea are almost certain to be playing Championship football in 2018-19.

Their 1-0 home defeat by relegation rivals Southampton on Tuesday means they occupy 18th place in the table heading into the final day, three points and nine goals worse off than the Saints.

Stay with us for the final day of the season. All 10 games kick off at 2:00 GMT.