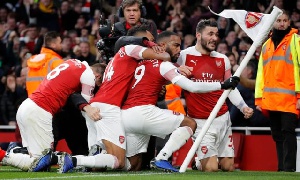 Hello and good evening. Got your breath back from last night's madness yet? There could be more in Naples tonight, with our good friend VAR again available as Arsenal travel to Napoli for the second leg of their Europa League quarter-final.
Things look fairly straightforward with the visitors holding a 2-0 lead - without an away goal to worry about too - so if they can score tonight, Napoli will need at least four to progress.

But the Serie A side, second in their domestic league, are no mugs with the likes of Lorenzo Insigne and Dries Mertens more than capable of packing a punch.

Elsewhere, Chelsea face Slavia Prague in tonight's other Europa League quarter-final second leg tie.

Chelsea hold a slender 1-0 lead going into tonight's game and the winner will face either Benfica or Eintracht Frankfurt in the semi-finals.
We expect the night to produce some thrills. Stay with us. Kickoff is at 7pm GMT.