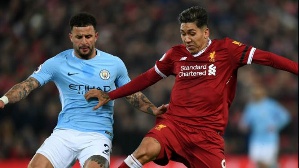 Hello good afternoon and welcome to what promises to be a full bouquet of drama until the very end.
In the words of a ridiculously successful Marvel film: "We're in the end game now".

By close of day today we will finally know who will get their hands on the Premier League trophy.

Today, we crown the best team in England.

After almost nine months of football, just one point separates the top two.

The title will either be settled at Anfield or the Amex Stadium.
Liverpool host Wolves, Manchester City are at Brighton.

A win for City and they are champions. There is no margin for error.

But has there ever been a more bonkers week in football? Where we saw Liverpool and Tottenham stage some of the best comebacks in the Uefa Champions League.

And a word of warning, it's not over yet.

If we have learned anything since Monday it is that anything, absolutely anything can happen in football....
Stay with us for the adrenaline-packed day.

All the league games start simultaneously at 2pm GMT.


Related Articles: