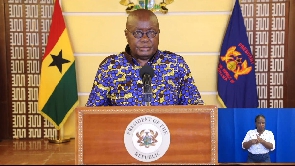 President Nana Addo Dankwa Akufo-Addo is addressing the nation on the measures taken by his government in the fight against the COVID-19 virus, as well as the country's 17th International Monetary Fund (IMF) programme.
The televised address by the president is being broadcast from the seat of government, Jubilee House in Accra.

This is the 29th time the president is addressing the nation following the outbreak of the novel coronavirus pandemic in the country in March 2020.

Meanwhile, the World Health Organization has since declassified COVID-19 as a global health emergency.

President Akufo-Addo's address is also expected to provide an update on matters concerning Ghana's recently approved $3 billion IMF economic support programme.
Watch livestream of the President's addresss below:



GA