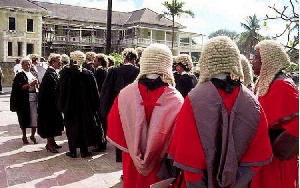 State Attorneys in Ghana have disclosed that labourers working in their respective offices are living under better conditions than them.
According to the president of the Association of State Attorneys Francisca Tete-Mensah, whereas the labourers are entitled to retirement packages and other emoluments, members of the association for the past two years have been without these benefits.

"Members who retired within the last two years went home without retirement benefits. Labourers in our offices are valued more than us… They are treated better than us and we find it difficult to understand why that is happening", she lamented.

The attorneys who have issued a week's ultimatum for the redress of their grievances are asking the appropriate authorities to; to effect the payments of correct harmonized salaries to state attorneys, put them on sustainable pension scheme, give them free official vehicles, pay research allowance, housing facilities or allowance, give them free healthcare, payment of outstanding leave allowances, clothing and fuel and the payment of outstanding promotion salary arrears.
They are also asking that members be given logistic support, machinery, equipment and tools accusing authorities of the illegal revision of conditions of service.

Francisca Tete-Mensah on the Ultimate Breakfast Show hosted by Lantam Papanko, described the current tango with the various authorities who are mandated to implement the agreements as meting out injustice to the state attorneys.

"Injustice is being meted out to us with the labour minister only good at promises without action. I insist here that their failure to act before Tuesday will lead to us withdrawing our services ", she warned.