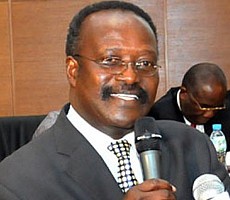 Tue, 20 Mar 2012 Source: GNA
Mr Kwesi Ahwoi, Minister for Food and Agriculture has said over the weekend that, the lack of a maintenance culture in the country was causing the nation a great deal of money which could have been channeled into development projects.
To him the attitude of Ghanaians now is to "build, neglect and rehabilitate" instead of going by the axiom "a stitch in time saves nine".

Mr Ahwoi, an Old Boy, was addressing the 82nd Speech and Prize-Giving Day celebration of the St. Augustine's College in Cape Coast under theme "The Culture of Maintenance as an integral part of Infrastructural Development".

"Watching the infrastructure bequeathed by our forefathers to decay before looking for gargantuan funding to rehabilitate them" was unpardonable, he noted, adding that this development has devastating effects on the economy.

He said every infrastructure has an economic life span that can only be sustained through proper and regular maintenance, and that lack of strong and universal maintenance in Ghana was due to lack of ethics in effective maintenance.

"Lack of commitment from leaders in all spheres of the Ghanaian society" as well as the absence of clear policies and financial resources to effect regular maintenance and the failure of managements across the country was worrying, he indicated.
He blamed the Ministry of Finance which approves funds for new office structures, the acquisition of new furniture and curtains among others but fail to provide for the maintenance budget submitted by the management of the various ministries.

Mr Ahwoi said many analysts and African political leaders relate their poor economic performances to inadequate investment in infrastructure but pointed out that without significant improvement in its maintenance culture, mere addition of more public and private infrastructure cannot result in the anticipated improvement in Africa's economic performance.

Mr Joseph Connel, the headmaster of the school lauded the 1987 year group for rehabilitating the administration block at the cost of $61,000.00.

On the academic success of the school, he said, all the 419 students presented for the West African Secondary School Certificate Examination (WASSCE) passed in all subjects except one and this could guarantee them easy access to any tertiary institution.

Mr Paa Kwesi Nduom, the Founder of the Progressive Peoples' Party and an old boy of the college, pledged to build a two storey building for the staff and a dormitory before another anniversary celebration.**
Source: GNA