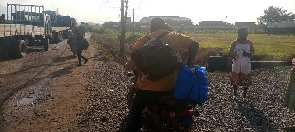 The absence of pedestrian facilities along the Accra to Kumasi Highway, known as N6, continues to be a grave concern, with residents along the highway staging protests as lives are lost due to the lack of safety measures.
The Accra to Kumasi Highway, also known as N6, serves as a vital national route connecting major cities in Ghana and even neighboring West African countries.

However, the absence of pedestrian safety measures such as walkways, overpasses, and underpasses on such busy roads has led to a surge in fatal pedestrian accidents.

In the first quarter of 2023 alone, the National Road Safety Authority recorded 1,205 pedestrian knockdowns across the country, a significant portion of which occurred on the Accra to Kumasi Highway.

Akraman and Sakyikrom, have become the latest communities along the highway to stage protests, fueled by the alarming increase in pedestrian knockdown incidents.

Residents express deep concern about the daily risks they face while walking along or crossing the highway.

"The removal of a flyover during the road construction has only exacerbated the safety issues for pedestrians here. Speeding cars knocks pedestrians almost every week. Just a few weeks ago a Pastor's wife was killed while crossing the road so we need pedestrian Facilities like foot bridges to enable us to cross safely".
Some parents in the community highlight the daily peril they endure while crossing roads to send their children to school.

"It is dangerous crossing the road to send your children to school. Sometimes we have to wait minutes till all these speeding cars pass because nobody will stop for us to cross. Many parents and their children are exposed to this danger every day ".

Okada riders in Akraman and Sakyikrom also shared their stories, recounting the dangers they encounter when crossing this busy highway.

Former Assemblymember Hayford Owusu reveals that despite raising the issue at the Nsawam Adoagyiri municipal assembly, no concrete actions have been taken to address the safety concerns.

As fatalities continue to rise, communities along the Accra to Kumasi Highway are intensifying their protests, urging authorities, especially the Ghana Highways Authority, to prioritize the installation of crucial pedestrian facilities to save lives.