Lack of public funding of political parties', the major cause of monetization - Prof. Ransford Gyampo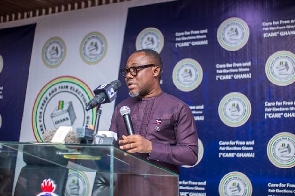 A Professor of Political Science at the University of Ghana, Ransford Edward Van Gyampo has identified the lack of public funding of political parties as a major challenge fueling monetization in Ghana, an act which has rocked the country becoming a major threat to its electoral policy and an affront to democracy.
According to Gyampo, public funding of political parties would help create a level-playing field for all political parties and aspirants to set ceilings of expenditure for the judicious use of political parties to thrive in achieving electoral politics and lack of it is a bane exacerbating the phenomenon of monetization or moneyocracy which ought to be holistically dealt with.

"We keep arguing about why political parties should be funded by the public. Look, it is in our own interest to fund political parties why? Because strong political parties are able to attract and build strong leaders".

"Strong leaders are able to work to transform our economies and to bring about development. Weak political parties will always attract weak people and weak people who do not have grasp over the challenges confronting us therefore will always not be able to fashion out proactive strategies to deal with our challenges", Ransford Gyampo vividly posited.

The astute Professor made this known while delivering a keynote address at a public forum dubbed "Elections Dialogue" held in Accra at Teachers Hall on Wednesday February 15, 2023.

The dialogue was initiated by the Care for Free and Fair Elections Ghana (CARE GHANA) a Non-Governmental Organization (NGO).
It was aimed at helping to dissect the economic, security and the sociopolitical implications of vote-buying and selling on Ghana's democratic advancement.

The forum which was conducted in hybrid format (in-person/virtual) brought together an audience from across all the political divides in the country, parliamentarians, leaders of various political parties, political groups, stakeholders, students, CSOs representatives and members of the general public.

Addressing the forum, the Executive Director of 'CARE' GHANA, David Kumi Addo contends that Ghana's elections have been characterized by alleged and observed cases of vote buying/selling, also known as clientelism.

He said vote buying/selling destroys one's choice to shape future decisions and that of generations to come, equally undermines one's fundamental rights as a citizen and one's individual choice of opinion and expression.

He further referred to the canker as a breach of the secrecy of the vote and makes voters less of a human being and makes valueless the money spent for polling booths because it undermines the concept of secrecy of the vote.
According to him, some schools of thought are of the opinion that, to curb this menace, the focus should be educating the instigators, that is, political parties and candidates while others are also of the view that, it will be more effective to concentrate on the recipient voters.

Again, he revealed that other arguments also have it that a broader focus that educates and holds to account other actors such as Election Management Bodies (EC) and the judiciary is with enormous potential to stop it.

"Following this stance, this programme is aimed at providing a platform to scholars, policy-makers, media and Civil Society Organizations (CSOs) to fully examine the reinforcing role of political parties in electoral clientelism during intra-party elections and, by extension, national elections", Mr. Addo stated.

A member of parliament (MP) who shared an insight into the issues admitted to the fact vote buying/selling is real and permeates every aspect of our social life including within religious settings.

The Member of Parliament of the Odododiodioo Constituency, Nii Lantey Vanderpuye, decried that although the phenomenon is a societal problem which is endemic yet the focus has been on the politicians and political actors as the perpetrators.
"You see our social set up is such that people think the only way to be able to get to a position is by influencing the person who has the mandate and authority to put you there", he alluded.

While proffering a solution to the problem, he said, "the issue is that, society needs to accept the fact that these are not things we need to do to grow our society so if all of us will be able to be candid to try as much as possible to minimize its prevalence it'll help us".

Some other speakers who added their voices to the discussion include Elvis Afriyie Ankrah, Emmanuel Kwesi Anning, Director Faculty of Academic Affairs and Research, Ekow Vincent Assafuah, Rosina Kyerematen, Dean of Students University of Ghana, Michael Boadi (GII), Nana Yaa Jantua, General Secretary of CPP and Michael Nii Abbey, Programmes Coordinator, Frederick-Ebert-Stiftung

Vote Buying/Selling is a phenomenon popularly referred to as moneyocracy or monetization in the Ghanaian electoral parlance.

It is a canker which is having a toll on Ghana's democracy and hampering development.
Ghana's electoral success story has not fully yielded the expected democratic culture and improvement in the physical quality of human lives. This is so because elections and their outcomes have oftentimes been shaped by mind. Not for organizing the processes but for buying votes and the conscience of the voters and the electoral kingmakers.

Today, it could cost up to 3 million Cedis to win just a seat as a member of parliament and about five-hundred thousand US dollars to win a seat in a swing constituency. In the conduct of parliamentary primaries, delegates' accounts revealed some aspirants paid up to three-thousand Cedis per person according to corruption watch report of 2020.

Similarly, one needs one (1) million of Cedis to bribe voters to be able to win an election that is held at the Inter-party level. But this is dependent on the area of the elections. It costs more in contesting an intra-party election in a stronghold than in an inter-party election in the same area. But in a swing area, one would spend more both at the intra and inter-party elections.

Moneyocracy undermines the beauty of our democracy. Moneyocracy gives way to one person or an individual who can pay his/her out without actually having the full support/representing the vision of the larger population. Moneyocracy breeds social injustice, inefficiencies and corruption.