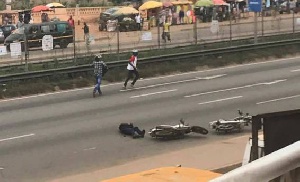 The robbers who shot dead police officer Daniel Owusu at Lapaz in Accra last year have been arrested, the Inspector General of Police has announced.
The two were rounded up together with three others, David Asante-Apeatu said.

Addressing journalists in Accra on Thursday, IGP Asante-Apeatu said the main suspects were arrested after they got out of their hideout.

'Moses Can Do'

Constable Daniel Owusu was shot dead on the N1 Highway in broad daylight on 13 July 2017 when he and Dzibril Alhassan were on their routine patrol duties.

The community police officers were not armed.
But in a show of bravado, the now-arrested armed robbers opened fire at the officers, who were on a motorbike.

Kassim Mukaila, 30, and Musa Ibrahim also known as 'Moses Can Do' are the men in police custody.

The others arrested with them are Benjamin Ni Lamptey aka Flexy, Laila Mohammed, 20, and Abbas Abdulai.

The IGP assured Ghanaians and the international community that they are in control of the situation and that everybody should remain calm.

"I take this opportunity to once again assure the good people of Ghana and the international community to remain calm and support the police."