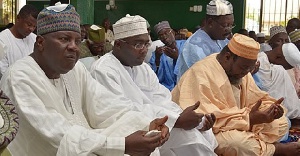 Farouk Aliu Mahama, Member of Parliament for Yendi has openly backed Vice President Mahamudu Bawumia to become next president of Ghana.
According to him Bawumia, who has yet to confirm his interest in the New Patriotic Party (NPP) presidential race, has distinguished himself politically in the last few years and merits a shot at the office of the president.

"NPP has the finest presidential hopeful. It tells you that we have good products to sell. But God says you cannot get everybody to be the president," he told Accra-based Joy News last week.

He stated that his late father, Alhaji Aliu Mahama was a supporter of Bawumia and would have supported the Veep's bid if he were alive.

"But me, my support for Dr. Bawumia…is not because my late father wanted to see him at a point. I see the Vice President within the shortest period of time as a force of reckon in the country.

"Even if my late father was alive, obviously he would have supported Dr. Bawumia," Farouk added.
He identified that Bawumia had done a lot and has vision to do more with support of president.

"He is very competent and at least can lead Ghana to the promised land…stands tall, in the last 16 years everything has been about Dr. Bawumia," he added.

Dr. Bawumia has been tipped as a frontrunner for the New Patriotic Party (NPP) flagbearer elections. If he indeed confirms his interest, he will come up against among others Alan Kyerematen, Kennedy Agyapong, Boakye Agyarko and Joe Ghartey.

SARA