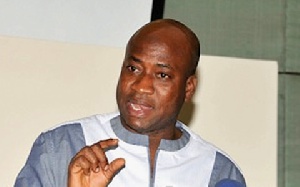 The law of karma says that "for every action there is an equal but opposite reaction." It means when we exhibit a negative force in thought, word, or action, that negative energy will come back to us.
Former Member of Parliament for Nantong constituency, Murtala Mohammed believes that is what is happening to the ruling New Patriotic Party (NPP).

His comment comes on the back of corruption allegation made by musician and a member of the NPP, A-Plus against President Akufo-Addo's two deputy Chiefs of Staff; Abu Jinapor and Asenso-Boakye.

If you may recall, A-Plus, before NPP came into power, was also an ardent critic of the John Mahama administration.
The musician few months ago took to his Facebook and launched a vitriolic attack on the two Deputy Chiefs of Staff at the Presidency, claiming they were arrogant and corrupt.

Murtala Mohammed seems to be 'happy with A-Plus' because 'what he did to the NDC, he is doing the same to the NPP'.

"I am happy with what A-plus has done to them. Karma is a brute. The gentleman is telling them that my integrity is more important than the NPP; it is more important than this government so if you bring out recording that is concocted, I will prove to the people of this country that I still stand by the allegations I made" he made known during a political discussion on Radio Gold's Alhaji and Alhaji programme, Saturday.