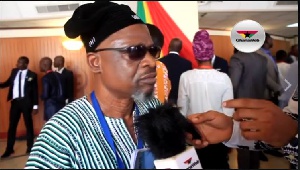 Member of Parliament for Sagnarigu ABA Fuseini has accused the New Patriotic Party (NPP) government of lawlessness following the raiding of the homes of former Deputy Power Minister John Jinapor and former Deputy Attorney General Dr Dominic Ayine by personnel of the Criminal Investigations Department in search of documents relating to the controversial $510million AMERI deal.
Five police officers, some wielding AK-47s raided the homes of the former appointees on Friday, 28 July 2017.

The raid comes three days after men from the CID confiscated laptops, phones and other electronic devices of the former Co-ordinator of the Emergency Power Programme at the Ministry of Energy, Francis Gyata following a similar raid at his home in Accra.

Reacting to the development on 12Live on Class91.3FM, Mr Fuseini accused the government of trying to intimidate its political opponents.

"Clearly this is lawlessness, the penchant of this government to perpetrate lawless acts is no longer in dispute and you can see the extent to which they are going," he stated.
He continued: "After visiting it on innocent citizens, they are now extending it to higher people in politics. Going after their political opponents and that is the vindictive agenda they have set across this country. … Today, they have gone to raid the houses of honorable Jinapor and Dr Ayine and these are sitting Members of Parliament.

"They are aware the laws of this country indicate clearly and unmistakably that to investigate a member, you must seek the permission of the Speaker. They are conversant with the rules and yet they resort to this level of impunity. This is a lawless government and the good people of this country have recognised the people who are at the helm of affairs in this country and appropriately taken judicious notice of their action.

"We in the Minority, we want to serve notice that you don't frighten a chief warrior with a moustache..."