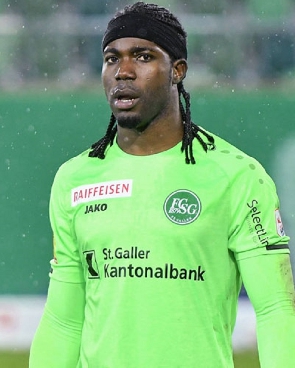 Black Stars goalkeeper Lawrence Ati-Zigi has expressed his delight after ending the 2022/23 Swiss Super League season with a clean sheet in St. Gallen's commanding 4-0 triumph over Sion on Monday.
The 26-year-old shot-stopper took to Instagram to share his excitement about the match and the support received from the fans.

He wrote, "wow what a great way to end the season. Wonderful atmosphere. Massive support. A win and a clean sheet".

Ati-Zigi recorded his fourth clean sheet in 33 games in the Swiss top flight. Notably, this was the first clean sheet he had kept in 16 games for his club, further enhancing his performance in the closing stages of the season.

The game started with a quick lead for St. Gallen when Emmanuel Latte Lath found the back of the net just five minutes into the match, giving the home side an early advantage.

The 24-year-old Ivory Coast international continued to shine and added another goal, doubling St. Gallen's lead at the Kybunpark. The performance captivated the more than 18,000 fans in attendance.
Just before halftime, Julian von Moos extended St. Gallen's lead further by scoring a third goal in stoppage time. This comfortable advantage effectively put the game out of reach for the visitors.

With only a minute left on the clock, Chadrac Akolo sealed the victory for St. Gallen, netting their fourth goal and capping off an impressive performance by the home team.

Lawrence Ati-Zigi's consistent and outstanding displays in the Swiss Super League have not gone unnoticed.

Weeks ago, he was honored as the best goalkeeper in the league by the Swiss Association of Football Players, further highlighting his exceptional contributions throughout the season.