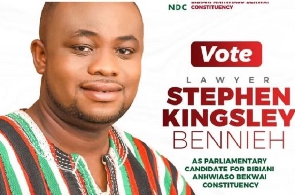 Private legal practitioner Stephen Kingsley Bennieh has picked nomination forms to contest in the parliamentary primary of the NDC in the Bibiani Anhwiaso Bekwai constituency in the Western North Region.
The NDC youth activist picked his forms today after declaring his intentions a few weeks ago.

The party will hold both the parliamentary and the presidential primaries on May 13, 2023.

Bennieh is confident his second attempt will get him the nod to lead the NDC into election 2024, after failing in the last elections.

Bennieh says he is in to win the seat for the NDC after they lost it to the NPP in 2004.

Apart from that, he believes his people have been sidelined by the NPP MP.
As a branch chairman in 2013, Bennieh called for NDC delegates of the area to vote for him and empower the branch executives who have not been duly recognized over the years.

In the same year, he was the spokesperson for the TEIN-KNUST branch in 2013.

He was the Ashanti Regional Secretary for the group – Youth for Mahama– whose work contributed to the electoral victory of John Mahama in 2012.

He became the Secretary for the NDC in his constituency in 2018 and rose to be a member of the party's regional manifesto committee ahead of the 2020 elections.

Among many positions held, he has been a communicator for the party at constituency, regional and national levels.