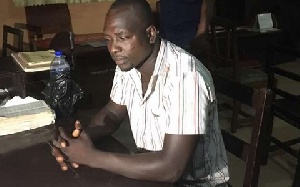 Counsel for some of the suspects standing trial in the Major Maxwell Mahama case has indicated that some of the facts in the charge sheet against his clients particularly the Denkyira-Obuasi assemblyman are not true.
George Bernard Shaw says from his examination of the assemblyman, William Baah, he did not organize youth of Denkyira-Obuasi to lynch the erstwhile Captain of the Ghana Armed Forces as earlier reported.

After Major Maxwell Adam Mahama was beaten to death, in a case of mistaken identity, reports made rounds that the youth were instigated by the assemblyman.

The charge sheet of the prosecutor suggested that upon seeing a side arm on the late soldier while buying from her, a snail seller called the assembly man, who is said to have organized the youth to perpetrate the crime.

But speaking to TV3's Komla Klutse after an adjournment of the case to Thursday, September 7, lawyer Shaw said "the fact is not what as was presented in court".
Mr Baah was declared wanted by the Upper Denkyira West District Security Council after the news of the murder broke. He had to turn himself in in the company of the Member of Parliament for Upper Denkyira West Constituency, Samuel Nsowah-Djan.

High court bail

The lawyer expressed worry at the slow pace of trial, stressing that it could have an effect on future narration by his clients. According to him, the more the case delays, the less accurate his clients' memories get in narrating the facts. He served notice he will be applying for bail for at the high court for his clients. But that will be done after public sentiments die down, he said.