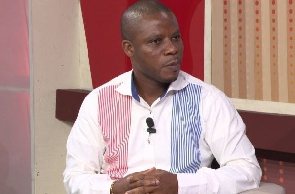 Suggestions by an avowed supporter of Alan Kyerematen, Sylvester Matthew Tetteh who is a Member of Parliament (MP) for Bortianor-Ngleshie Amanfro Constituency, to the effect that the late Alhaji Mumuni Bawumia had a "bitter experience" with antecedents of the NPP has been rebuffed.
The lawmaker was seeking to suggest that Vice President Dr. Mahamudu Bawumia cannot use the role his father played as a campaign message for his bid to be the flagbearer of the NPP for the 2024 General Elections.

But Private Legal Practitioner and an Aide seem to Dr. Bawumia Yussif Akbar Rohullah Khomeini has argued that Alan Kyeremanten has hurt the NPP much more than what Bawumia's father is purported to have done in the past.

Speaking on Metro TV yesterday, Sylvester Tetteh stated that Alhaji Dr. Bawumia cannot use the "aduru me so"(it is my turn) campaign message being used by Alan Kyerematen because his father's role in the NPP tradition does not adequately support such a stance.

But Mr. Khomeini hit back at him in a social media post, saying, among others, that Alan Kyeremanten will be punished much more if the NPP were to exact revenge for things done against the party.

Read Mr. Khomeini's reaction below:
Sly Tetteh, typical with his usual unconvincing arguments, contended this morning on Good Morning Ghana that Dr. Bawumia's father, the distinguished public servant, lawyer, and proper chief, Alhaji Mumuni Bawumia had a "bitter experience with the party".

Sly and his likes are bruised by the widely published view of Dr. Richard Anane rejecting their arrogant, near-royal declaration of "it is my turn".

Dr. Anane's claim, supported by history, that the unblemished Dr. Bawumia is much suited to trumpet the 'Aduro Wo So' mantra because of the role of his father in the formation of the United Party through the Northern Peoples Party, the first NPP, of which he served as Vice Chairman.

It is this factual rendition by the one-time vociferous supporter Alan supporter which drove Sly to near insanity this morning.

Sly subtly or better still, impliedly urged the party to visit the imaginary sins of Alhaji Mumuni Bawumia onto Alhaji Mahamudu Bawumia to pacify for what he referred to as "bitter experience" with the former.
Ironically, Sly is canvassing for a man who derailed the NPP's first attempt to break the 8 in 2008. Against all sane advice, even from the respected Kufuor, he resigned from this noble political tradition and the consequent chaos and disunity denied us victory painfully. The NPP lost by the narrowest of margins in recent election history in Africa!

What a painful affliction it was by Sly's favorite! If the party is to punish the modern Dr. Bawumia for the imaginary sins of the independence-Bawumia Esq, I wonder what it would do to Alan!

Sly should shush!