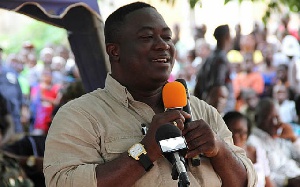 The Member of Parliament for Kpone Katamanso constituency, Nii Laryea Afotey-Agbo has been asked to vacate his parliamentary seat following his induction into the Nungua Traditional Council as the regent of Katamanso in the Greater Accra region.
Parliament is currently on recess and private legal practitioner, Martin Kpebu insists the MP resigns when the house reconvenes.

The 1992 Constitution forbids chiefs from engaging in politics: Article 276(1) stipulates, "A chief shall not take part in active party politics, and any chief wishing to do so and seeking election to Parliament shall abdicate his stool or skin".

As a regent, Nii Afotey-Agbo is only expected to perform administrative functions and not to hold himself as the substantive chief of the people.

Also as a caretaker chief, his name will not be gazetted but will represent the Katamanso Divisional Council at the Nungua Traditional Council.

Even though the MP has said he would not seek re-election in 2020, lawyer Kpebu indicated on TV3's News@10 on Monday, he would be stretching people's patience if he decides to keep his seat.

He said as a regent, Nii Laryea Afotey-Agbo would be performing the functions of a chief and should not be given the luxury to stay on until his term of office expires.
Martin Kpebu insisted that the MP should be forced to "step down" immediately the Seventh Parliament under the Fourth Republic resumes sitting this year.

"What you ask yourself is that, what is it that a chief does that a regent cannot do. He is in an acting position and he performs the functions of a chief. "So to the extent that he performs the functions of a chief, he is a chief," Kpebu argued.

"If he doesn't step down, don't be surprised that somebody will take this matter up quickly," he said pointing to how "savvy" Ghanaians have become when it comes to matters bothering on constitutionality.

Nii Laryea successfully went through all the necessary customary rites to enable him act legally on behalf of the ailing chief of Katamanso on Monday.

He has been the Member of Parliament for Kpone Katamanso since 2009 The legislator will lead the people as well as take over the day to day administration of the Katamanso area.