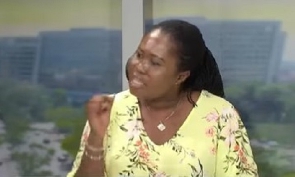 A member of the legal team of the opposition National Democratic Congress (NDC), Beatrice Annan, has slammed the Ghana Bar Association (GBA) over its silence over happenings during the #OccupyJulorbiHouse# demonstration, which took place from September 21 to September 23, 2023.
Speaking in an interview on Metro TV's Good Morning Ghana programme on September 25, 2023, Beatrice Annan described the leadership of GBA as the most "useless" in Ghana.

She said that the GBA is silent as its members are being brutalised by officers of the Ghana Police Service just because they went to police stations to free demonstrators who had been arrested.

The lawyer indicated that she was not surprised by the actions of the police service, but the silence of the association was deafening.

"As for the police, the least said about them, the better. I think that it is most shameful to see that the colonial mentality has not left the police service. Ghana Police should be ashamed of themselves for what happened on Nkrumah's birthday. And this is why I say that the Ghana Bar Association is becoming perhaps the most useless organization after the government.

"… the members are not useless; the leadership is useless, and I say with no apology. What happened was that when the protesters were arrested, my colleague lawyers went in there to seek bail or to secure bail for people… and police had the effrontery to beat lawyers and arrest them, and other lawyers had to leave and go and bail lawyers who had gone to bail protesters," she said.
She added, "Where is this done… Even if you picked up people without knowing their identities and lawyers have come to bail these people or lawyers are intervening in the process of arrest, you don't arrest the lawyers and beat them".

Watch the interview below:


The Ghana police should be ashamed of themselves and the Ghana Bar Association is becoming the most useless organization. How is it that lawyers had to go and bail other lawyers who had initially gone to bail arrested protestors? - @Beatrice_Annan1 #GoodMorningGhana #MetroTV pic.twitter.com/bwrTLMuVGU

— Metro TV Ghana (@metrotvgh) September 26, 2023
BAI/SEA
You can also watch this episode of People & Places on GhanaWeb TV:

 

Ghana's leading digital news platform, GhanaWeb, in conjunction with the Korle-Bu Teaching Hospital, is embarking on an aggressive campaign which is geared towards ensuring that parliament passes comprehensive legislation to guide organ harvesting, organ donation, and organ transplantation in the country.