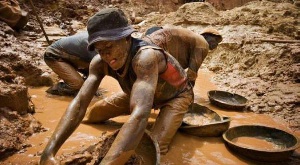 Member of Parliament (MP) for Tarkwa-Nsuaem constituency in the Western Region, Hon. George Mireku Duker, has called on state actors and other stakeholders to legalise activities of illegal mining, popularly known as 'galamsey.'
According to the Tarkwa-Nsuaem lawmaker, legalising galamsey operations will create more employment opportunities for the youth in the wake of the high youth unemployment and the country's ailing economy.

Speaking in an exclusive interview with Today, Hon. Duker, who is a member of the Parliamentary Select Committee on Mines and Energy, explained that the current approach in fighting the galamsey menace has not helped matters.

Against this background, he stressed that it was important for the country to find a more holistic way to reduce the negative impact of galamsey and maximise its huge benefits.

"One surest way to deal with the galamsey menace is to first legalise their operations, put them into groups and licence them, then we can assign people to monitor them to ensure that they conform to all the laid down rules," he submitted.

Though Ghana has over the last decade suffered the effects of widespread illegal mining activities in various regions of the country, Hon. Duker however, was of the view that the huge destruction of river bodies, farmlands, forest reserves and farms was as a result of the way "we have handled the issue (galamsey) in the past."

"Even the current approach where assets of operators are seized, amidst shooting and killing by security agencies have compounded the situation because these people (galamseyers) go about their operations in a rush for fear of being caught so there is little time left for them to plan," he said.
Hon. Duker argued out that if the galamseyers were licensed, properly trained and monitored, they will take their time and work in the confines of the law and all negative activities that are associated with their operations will be eradicated or minimised.

The call by the Tarkwa-Nsuaem MP to legalise galamsey comes on the heels of the Minister of Lands and Natural Resources, John Peter Amewu's, call for stiffer punishment for persons who flout the law by mining illegally in the country during his ministerial vetting.

The minister maintained: "as a country, we must begin to enforce some of these laws. If the House gives me the nod, I'm not going to take it lightly at all, if you refuse to do the right thing, the law will get you, and I am going to apply the law to address the 'galamsey' issue in the country."

But, Hon. Duker believes that legalising galamsey operations in a confined space will be more beneficial than a total ban which has not yielded any results.

"Legalising it will open the economy and create more jobs which will translate into wealth generation", he pointed out.

Water bodies including the Brim and Pra Rivers have been rendered undrinkable, because illegal mining activities have left the them polluted.