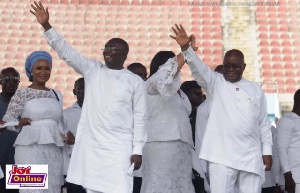 President-elect, Nana Akufo Addo has called Ghanaians to live in an atmosphere of reconciliation and magnanimity with one another in order to help build the country.
According to him, lasting peace is a sine qua non for for the effective development of the country, an assignment that he's very committed to.

The three-time Flagbearer of the largest opposition party was declared winner of the general elections after he polled 5,716, 026 votes to beat the incumbent President John Dramani Mahama who garnered 4,713,277 votes out of the 10,615,361 valid votes cast, which were votes from 271 out of 275 constituencies.

His victory has seen some alleged supporters of the New Patriotic Party (NPP) across the country attacking their supporters.
Speaking at a Thanksgiving Service at the Accra Sports Stadium on Sunday, President-elect Akufo Addo condemned such acts and urged the citizenry to learn to forgive their wrongdoers.

"We're grateful to God for preserving the peace of this nation through this elections despite the fear and apprehension of many citizens. We conducted ourselves largely peacefully, I do recognize that there has been instances of misconduct and altercations that should not have happened, such behaviour is unbecoming of us. I call on all Ghanaians to act with kindness, generosity and magnanimity towards one another and to forgive anyone who may have wronged or hurt you. Remember the battle is the Lord's."