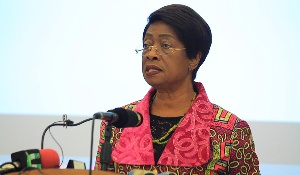 Chief Justice Sophia Akuffo has recommended that courts be built in new prison facilities to administer justice.
According to her, this is necessary as it remains one of the missing links in Ghana's justice delivery system.

Speaking at the inauguration of a special high court cited in the Kumasi central prisons, to adjudicate remand cases and convicts who desire to appeal against their convictions or sentences, Ms Akuffo said: "The building of court is an executive matter, particularly courts inside prisons, so, while we all see the need for more, I would like to suggest that, at least, going forward, we want to see some cooperation with the executive in the construction of these courts.

"Not only that, but I would also like to recommend that if it's decided, we build any new prisons, the design must incorporate court services, full-scale court services, you build it, we will be there to administer justice".
For his part, the Director-General of the Ghana Prisons Service, Patrick Darko Missah, bemoaned the overcrowded nature of the Kumasi Central prisons.

He said the prison, which was originally constructed to take 800 inmates, now holds a total of 2,115 inmates.