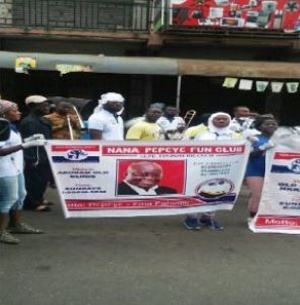 Patriotic Party (NPP) group in the Ashanti Region called 'Nana P3p3y3 Fun Club' has urged the people in the region especially traders to change their attitudes towards sanitation in the region.
Residents in region have recently raised concerns over how filth has engulfed parts of the city especially the central business district.

'Nana P3p3y3 Fun Club' on Sunday embarked on a clean up exercise at Dr. Mensah and Central market.

However, the Chairman of 'Nana P3p3y3 Fun Club' Mallam Issah speaking to Abusua Dawuro's Osei Kwadwo on the sidelines of the exercise complained that public attitude towards sanitation shows that maintaining proper hygiene could be the most difficult thing to do.

He therefore urged authorities of Kumasi Metropolitan Assembly (KMA) to provide waste bins at the central business district to help end bad sanitation in the Kumasi Metropolis.
"The name Garden City has changed to Dirty City due to bad sanitation in this region. All hands should come on desk to deal with bad sanitation in this region" he suggested.