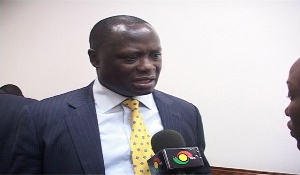 Sat, 11 May 2019 Source: Kofi Buah
The Member of Parliament (MP) for Ellembelle Constituency in Western Region, Emmanuel Armah Kofi-Buah has admonished sympathizers of the NDC to start working hard for the party to secure victory in 2020.
He explained that the victory of the NDC in the upcoming elections will obviously require all hands on deck and urged party sympathizers to intensity campaign ahead of the crucial polls.

He said the party can win power come 2020 if all supporters of the NDC commit themselves to an uncompromising hardwork and intensify party activities ahead of the decisive polls.

He also said despite the visible and disappointing failings of the NPP administration, it will still take an extra hard work through grassroot mobilization and organization backed by a strong message to win more souls required to capture power in 2020.

According to the former Minister for Petroleum, the hard work must start now from all the branches, right down to the constituencies and ultimately at the regional level.

He said this in a speech read for him on Monday by his office Manager, Lord Arthur during a presentation of a motorbike to the youth wing of the party.

Receiving the donation, the Constituency Chairman, Mr. Alex Mahama popularly known as Acounty recalled the MP's hard work and leadership that has made the NDC attractive enough to win the Ellembelle seat for 3 conservative terms.
Consequently, he assured the MP of the commitment of the Constituency Executives to go all out in leading the effort to secure victory for the party in 2020.

The Ellembelle Constituency has been captured by the NDC since 2008 following the landslide victory historically chalked by Emmanuel Armah Kofi Buah.

He defeated Freddie Blay, current national chairman of the NPP in an election which was considered most competitive and jaw breaking.

The latter had occupied the seat for 12 solid years until the defeat suffered in the hands of the former who was bent on upstaging the most powerful politician in Nzema at the time.

Apparently, Freddie Blay, an astute lawyer had served as an MP for Ellembelle on the ticket of the CPP with enviable support of NPP and became a second and subsequently first Deputy Speaker of Parliament.
Source: Kofi Buah