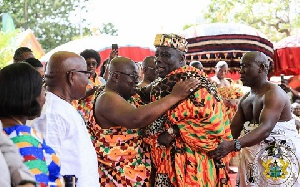 Okyehene Amoatia Ofori Panin II has urged Ghanaians to work towards achieving President Nana Akufo-Addo's vision of building a Ghana beyond aid.
Speaking at the 75th anniversary commemoration of the death of late Okyehene Nana Sir Ofori-Atta I, the paramount chief of the Akyem Abuakwa Traditional Area, said: "We [Ghanaians] have become a model for the kind of democracy Africa needs; and our responsibility is to use this oneness to achieve the economic freedom that we should all be working tirelessly towards, that is Ghana Beyond Aid, Africa Beyond Aid. Mr. President, we thank you for your vision".

The president has, on several platforms, explained his Ghana Beyond Aid vision to mean: "We are going to grow ourselves into a position whereby we're no longer dependent on external sources to finance our budget".

"We've got to work our way out of that situation so that we can stand on our own to feed and design our own future free of external influences", he added.



Below is Okyehene's full speech at the 75th anniversary celebration of Sir Ofori-Atta:

The Bible says in Psalm 118:24, and I quote "This is the day the Lord has made. We will rejoice and be glad in it."
Excellencies, Otumfuo Asantehene, ladies and gentlemen, there has never been a prouder moment in my life, and in my period of stay on the stool of Okyeman, than today, and what we are witnessing here. We are gathered to celebrate the life and legacy of my grandfather, the redoubtable Kwadwo Dua, the great leader of Akyem Abuakwa, Nana Ofori-Atta.

Last week, the President of the Republic, in his tribute to the late J.H Mensah, quoted from Plato's Apology, which I believe is wholly appropriate on a day such as this. Plato said "no evil can happen to a good man either in this life or in death."

What this celebration tells us is that no matter how long one has been gone for, and in the case of Nana Ofori-Atta, 75 years, if you serve well, you will always be remembered eternally by a grateful people.

In particularly, I am grateful for the presence of the Asantehene, Otumfuo Osei Tutu II, who is our Special Guest of Honour. Otumfuo Asantehene, everyone here will agree with me when I say that you have, so far, been a defining light of traditional authority in recent years.

Indeed, in my recent visit to Kumasi, my heart was full of content with the hospitality, dignity, elegance and pride of Asanteman. Otumfuo, I thank you.

Excellencies, Otumfuo Asantehene, ladies and gentlemen, the man we are celebrating today, Nana Ofori Atta, was AMANTIREMANMIENU, unifier of two worlds. He carried our customs, and traditional values to embrace and promote modernity and Christian values.
Being the longest serving member of the Legislative Council, he was a firm believer in the ability of the people of the Gold Coast to chart their own path to progress and prosperity. He was eloquent in articulating the views of his people, and believed that respect for human rights and individual liberties were paramount.



He was a visionary in many areas, none more so than in education, building schools and offering scholarships that created opportunities for many boys and girls to access education.

Today, my brother, the Asantehene, is carrying this torch in ensuring that, regardless of the circumstances of your birth, you are not denied access to education. In the words of the Asantehene, and I quote "the pen advanced civilisation and helped shape great nations." Indeed, it is not our country's natural resources, i.e. our gold, cocoa, timber or oil that is going to create the prosperous Ghana we all want. It is the development of our human resource, and I see no better way to do so than through education.

Permit me, therefore, to pay tribute to Otumfuo Osei Tutu II for his leadership in continuing with our role as traditional leaders in promoting education. I take this occasion to salute his exemplary contribution in the establishment of the Otumfuo Educational Fund.

The President of the Republic, Nana Addo Dankwa Akufo-Addo, is to be commended for following in the tradition of our grandfather, Nana Ofori-Atta, through his Free Senior High School policy, which is ensuring that every Ghanaian child receives a minimum of Senior High School education, and without which some 180,000 children, this year, would have missed out on senior high school education. Indeed, Sierra Leone is emulating this brilliant policy, and I am confident that sooner rather than later, the majority of countries on the continent will follow suit. Ayekoo, Mr. President.
Excellencies, Otumfuo, Ladies and Gentlemen, Nana Ofori-Atta's brother, the illustrious J. B. Danquah, a founding father of our nation said: "Every Ghanaian is an Odehye of this land". All Ghanaians are royals of the land.

That title comes with privileges and responsibilities. Every child, regardless of their provenance, must have the opportunities that education can afford, so that they grow in dignity and in depth, and are able to fulfil their full potential and responsibilities. It is the only way our great country, Ghana, can fulfil its manifest destiny and potential.

Ghana, since independence, has been a leader and role model on the world stage. Today, as I sit with my brother, the Asantehene, side-by-side, Asante and Akyem, we are showcasing the rich harmony of Ghanaian culture, history and values. Ghana is a melting pot of nation-states, cultures, religions and ethnicities that have come together, in our pluralities, to create one of the most peaceful nations of our time. We have become a model for the kind of democracy Africa needs; and our responsibility is to use this oneness to achieve the economic freedom that we should all be working tirelessly towards, that is Ghana Beyond Aid, Africa Beyond Aid. Mr. President, we thank you for your vision.

This is a historical day, one of remembrance, but also one for the future. Today, collectively, we imagine a Ghana in which we stay unified, in which we are equal, in which each and every citizen has access to all the opportunities necessary to thrive; and in this collective imagination, we become one in our aspirations, and we become mightier than we could ever be apart.

Let us remember this day for many years to come, and let it serve as an inspiration for us, as we overcome our daily trials and tribulations, and move towards a Ghana that we all know in our hearts is one of the greatest countries on earth. Let us build it together.

Togetherness is like "the precious oil on the head running down on the beard of Aaron, running down on the dew of his garments. It is like the dew of Hermon, descending upon the mountain of Zion". In this case, on the mountains of Okyeman, Asanteman and y? man, Ghana.
God bless Okyenman, God bles Asanteman, god bless Ghana.

Thank you for your attention.