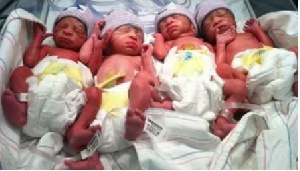 The Member of Parliament for North Tongu, Samuel Okudzeto Ablakwa has called on parliament to consider legislation which will make Assisted Reproductive Technologies (ARTs) also known as fertility treatments affordable and convenient for Ghanaians.
According to him, fertility treatments are gradually taking away the psychological and emotional burden couple carry as a result of their inability to conceive within a period after their marriage.

In a presentation in Parliament, the former Deputy Education Minister said the seeming lack of regulation in the fertility treatment industry in making makes it easy for patients to be exploited.

"Mr. Speaker, many childless couples have found refuge and solace in Assisted Reproductive Technologies (ARTs) also known as fertility treatments which have brought them success and great joy; yet despite its existence and attendant benefits, little has been done by the Ghanaian society and this August House to raise awareness and to ensure that Ghana passes comprehensive legislation on matters pertaining to ARTs which include, Surrogacy, IVF and the proliferation of fertility clinics offering several modern interventions.

"Mr. Speaker, for reasons that have been with us for centuries, society expects that a couple should have a baby within few months after marriage or that a woman must conceive naturally and bear children," he said.
He added "Mr. Speaker, Assisted Reproductive Technologies such as In Vitro Fertilization (IVF) and Surrogacy are now common medical interventions in our country. These services are being offered by many medical facilities to assist with conception".

"IVF involves fertilization by extracting eggs or embryo from the woman, retrieving a sperm sample from the man, and then manually combining an egg and sperm in a laboratory dish. The embryo is then transferred to the uterus. Experts say the success rate of IVF treatment is about 35%-70% which makes this method most preferred.

"Mr. Speaker, from my research, the cost of a cycle of treatment here in Ghana ranges from between Fifteen Thousand US Dollars ($15,000) and Forty Thousand US Dollars ($40,000)".