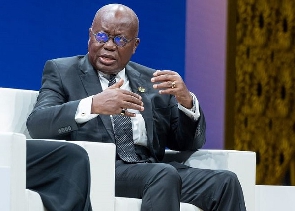 President Nana Addo Dankwa Akufo-Addo has entreated African leaders to desist from borrowing and utilize their limited resources wisely.
According to him, intra-Africa trade and spending of monies on the continent would boost African economies.

He also noted that the introduction of good policies and strategies for exports, as well as, adding value to raw commodities will build a robust intra-Africa trade.

President Akufo-Addo said the continent would also be industrialized with agricultural growth.

Speaking at the Global Africa Forum held on September 21, 2023, he said Africa would attract respect from the Western world if the aforementioned strategies were adopted.

"As the saying goes, nothing succeeds as much as success. If we work at it, if we stop being beggars and spend Africa's money inside the continent, Africa would not have to ask for respect from anyone, we will get the respect we deserve," President Akufo-Addo said.
"Twenty years ago, thirty years ago, China was not where it is today. China does not ask anyone for respect today, she does not need to. Let us make our continent the joyful and prosperous place it should be and the respect will follow," he added.

President Akufo-Add was speaking on the theme "Mobilising Global Africa investments to boost intra-African trade."

It would be recalled that the government on July 1, 2022, announced its decision to run to the International Monetary Fund (IMF) for a $3 billion financial bailout programme.

Subsequently, a team from the IMF arrived in the country from July 6 to July 13, 2022, to engage Ghanaian authorities for a possible economic support programme.

A staff-level agreement between the Government of Ghana and the IMF was reached in December 2022.
On May 17, 2023, IMF's executive board approved Ghana's $3 billion loan facility.

The first tranche of $600million was received by the Bank of Ghana (BoG) on Friday, May 19, 2023.

The IMF programme, according to the government is aimed at restoring macroeconomic stability and safeguarding debt sustainability among many others.

SA/NOQ

Ghana's leading digital news platform, GhanaWeb, in conjunction with the Korle-Bu Teaching Hospital, is embarking on an aggressive campaign which is geared towards ensuring that parliament passes comprehensive legislation to guide organ harvesting, organ donation, and organ transplantation in the country.
Watch the latest edition of BizTech and BizHeadlines below: