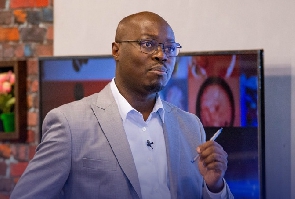 Minority Leader and Ranking Member of the Finance Committee in parliament, Dr. Cassiel Ato Forson, is calling for a halt of tax waivers in a bid to save the economy much-needed revenue in the face of current economic challenges.
The economy lost GH¢27billion to tax exemptions between 2008 and 2020, leading to passage of the Tax Exemptions bill last July. It provides for a tax exemption regime in the country with defined criteria for exemptions, and was expected to save the economy GH¢460million in 2022, according to Minister of Finance Ken Ofori-Atta.

However, as the country faces mounting economic challenges, Dr. Ato Forson said government should halt all forms of tax waivers to companies in a bid to raise additional revenue to support the recovery process. This, he explains, is particularly apt given the downturn in economic activity along with rising public expenditure.

"We believe that tax exemptions are becoming too much; and particularly in times like this when the country needs every cedi to save our economy, you cannot continue granting tax exemptions. We believe that the time has come for us to put the brakes on those tax exemptions and raise enough revenue to support the country; we need every revenue to move the country forward," the Minority Leader said.

His remarks were in response to a question regarding public perception about huge sums that the country loses annually. Dr. Ato Forson noted that even though the country has saved some funds since passage of the Tax Exemptions bill last year, there is a need for further scrutiny to identify gaps in the regime and improve on them in order to save more.

"We worked with the ministry and led it to get the Tax Exemptions bill passed, so we have a tax exemption regime in place as a country for the first time. And so, you will notice that the finance committee has been very adamant in approving tax exemptions.
"In terms of the savings that the Finance Committee has led parliament to make in terms of tax exemptions, if you quantify it you will notice we have made huge progress as a country. But there is still a lot more we have to do," said.

"I cannot say that is comfortable enough" he said, adding: "So we will have to continuously identify the gaps we have in the tax exemption regime and improve it going forward."

Parliament passed the Tax Exemptions bill, 2022 in July last year to provide for a tax exemption regime in the country.

The law sets clear eligibility criteria for tax exemptions and provides for the monitoring, evaluation and enforcement of exemptions to ensure t they are used for the intended purposes.

Finance Minister Ken Ofori-Atta, on Tuesday, July 19, 2022, told parliament that the country lost about GH¢27billion to tax exemptions granted for some businesses between 2008 and 2020.
He noted that in 2020 alone about GH¢1.8billion was lost, the worst recorded for a single year since 2008.

"This brings into focus the need for all of us to protect the public purse. That is an important social re-engineering for us, as we lose revenue on many fronts," the parliamentarian said.

With the bill passed, Mr. Ofori Atta projected at the time that 2022 would likely result in savings of GH¢460million.

Prior to its passage, the Finance Committee's report said: "The Committee noted that the bill provides for robust reporting requirements and mechanisms to ensure efficient and effective use of exemptions".

The report also noted the committee was informed during its considerations that tax exemptions create significant difficulties for developing countries, and run counter to the objective of strengthening domestic resource mobilisation.