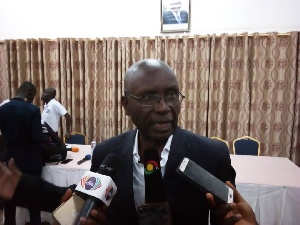 Sat, 27 Oct 2018 Source: Michael Creg Afful
Energy expert, Andrews Quayson, is urging Ghanaians to support government of Ghana's decision to engage Philippines energy firm, Meralco Consortium, to manage the Electricity Company of Ghana (ECG), under a concession arrangement.
He believes the takeover of ECG by Meralco would help address the technical and commercial losses, which ECG had not been able to address for many years. Again, it will make the country's power distribution company an efficient one.

"For the past 20 years, we have been asking ECG to reduce technical and commercial loses but they have not been able. In 1997, it was about 21% but now it's about 23% and we seriously have to tackle it," he said.

Cabinet, early this year, approved the takeover and management of ECG by Meralco, under the Ghana Power Compact II.

However, one of the entities that was anticipating to win the bid but failed filed a suit at the High Court to challenge the decision by Millennium Development Authority (MiDA) to disqualify them.

The issue generated discussion on the airwaves, with a section of Ghanaians accusing MiDA for sidelining Ghanaian companies that competed for the deal and rather selected Meralco consortium, which is a foreign company.
But speaking to this reporter in an interview on the sidelines of Power Dialogue organized by the Energy Commission, in Accra, Andrew Quayson who is the Chairman of Energy Foundation of Ghana, raised objection to those criticising the selection of Meralco.

He stressed the need for those who were pushing for the selection of a wholly-owned Ghanaian company to look beyond that and rather focus on the results Meralco would deliver to make electricity delivery more efficient to consumers.

Making a reference, he said, "It is like engaging a coach. If the coach is Black or White, it doesn't matter. What matters is whether the team will win or lose. We should stop thinking about where the person is coming from and think about getting results."

"We have tried you for 20 years but you are at the same place. And now, we are saying somebody should come and help. If they are not able, then we will think about what to do next," he added.

Under the Compact II, six projects would be implemented to address the root causes of the unavailability and unreliability of power in Ghana, which are ECG Financial and Operational Turnaround Project, NEDCo Financial and Operational Turnaround Project, Regulatory Strengthening and Capacity Building Project and Access Project.
Source: Michael Creg Afful