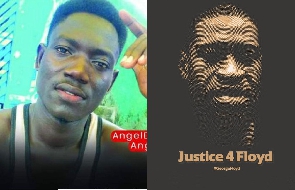 Member of Parliament for Jomoro, Dorcas Affo-Toffey is demanding firm action be taken by the government over the death of one Shadrach Arloo, which incident occured last week at the West Hills Mall.
She is calling for a multi-pronged probe into the issue with the view to serving justice to the family and loved ones of the deceased.

The MP addressed a press conference on February 4, 2023 to drive home the quest for justice for Arloo, a native of Nzemaland, specifically Jomoro.

As part of immediate actions, she appealed to President Nana Addo Dankwa Akufo-Addo to issue a statement on the incident just as he did in June 2020, in the aftermath of the case of George Floyd, a victim of police violence in the US.

"Just as the President issued a statement in the case of George Floyd, a black American who was killed in a similar way ... we expect and demand that H.E Nana Addo Danquah issues a statement to commemorate with the family of Shadrach."
Shadrach's death

The incident that led to Arloo's death took place at the West Hills Mall on January 30, 2023.

According to a Graphic.com.gh report sighted by GhanaWeb, 32-year-old Shadrach Arloo was scheduled to travel to Germany barely 24-hours before his untimely death.

This report is corroborated by a sister of the deceased who told the newspaper in an interview that her brother had gone to town to purchase some items in preparation for his travel when he got into a situation with the police leading to his death.
According to Perpetual Didier who is a known gospel musician, her brother her brother was allegedly beaten and tased to death during an incident with a police officer and a private security guard at the mall.

Meanwhile, the Sowutuom District Court remanded the shop Manager of Max Buy Ghana Limited, dealers of electrical Appliances within the West Hills Mall, Boafo Osei Kwame in connection with the death of Shadrack Arloo.

The manager who is now a suspect in the death of the deceased is said to have used a Taser to shock a 33-year-old man leading to his death.

The District Court at Sowutuom presided over by His Worship Stephen Tebiri, remanded him into police custody to reappear on February 16.
In court on Thursday, February 2, his plea was not taken after the charge was read to him and the brief facts presented to the court.

Akufo-Addo statement on George Floyd murder

Black people, the world over, are shocked and distraught by the killing of an unarmed black man, George Floyd, by a white police officer in the United States of America. It carried with it an all too painful familiarity, and an ugly reminder.

It cannot be right that, in the 21ST century, the United States, this great bastion of democracy, continues to grapple with the system of racism.
On behalf of the people of Ghana, I express my deep condolence to the family and loved ones of the late George Floyd.

We stand with our kith and kin in this difficult and trying times, and we hope that tragic death of George Floyd will inspire a lasting change in how Americans confront head on the problem of hate and racism.



SARA