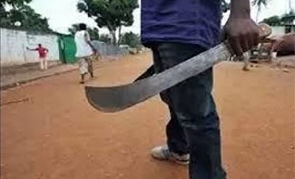 A member of the National Democratic Congress (NDC) has sustained cutlass wound during the ongoing limited voters' registration exercise in the Agona West constituency.
Sam Toys, the organiser of the New Patriotic Party (NPP), has been accused of inflicting cutlass wounds on his opponent.

The victim, a member of the NDC communication team, is said to be in critical condition.

He was allegedly assaulted as a result of the commotion that ensued between the NDC and the NPP at the Electoral Commission's Agona West office in the Central Region.

The NDC's Deputy Organizer in the constituency, Samuel Ametepey, who is said to have witnessed the incident is not happy and has asked the police to deal with the matter.

He slammed the EC and blamed it for the chaos.
He added that the NDC will not back down until the registration process concludes.

Meanwhile, Agona West NPP Communication Director, Isaac Somuah has denied the allegations being levelled against his Organiser.

"Toys did not hit the victim's head with GoTa. Zion's account is false, he was not present… It was a fight between the two people and they both crashed into a car's bonnet. That is how come his head hit something and resulted in the wound," he said.

"Toys also fell from the car onto the floor and they were separated," Somuah added.