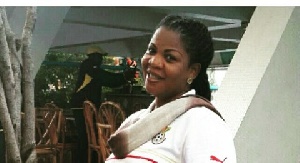 Executive committee member of the Ghana Football Association Linear Addy has declared her dissatisfaction with Kwesi Nyantakyi's decision of not contesting for the 2019 Ghana FA presidency.
Nyantakyi, 49, announced that he will not seek re-election when his tenure in office elapses in 2019.

Several members of the nation's football people have expressed divergent opinions on the CAF Executive committee member's precipitous decision.

"I believe the timing is wrong because we are in 2017 and between now and 2019 a lot can happen, hence I think he should waited for some time before to see if he cannot continue again or vacate the seat for someone else to take up mantle," Addy opined on Happy FM.
"That's my humble opinion though but I still believe he's come out too early."

"He knows his body well and maybe he's feeling the need to give it a rest but like I said he could have waited a little while."