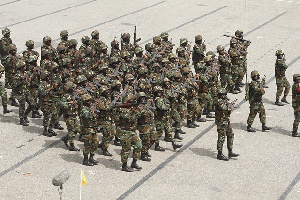 The Ghana Armed Forces (GAF) has expressed its "disgust" at the circulation of an "old" picture on social media, of army personnel (one of whom is purported to be Captain Chubby Adam Mahama (rtd) – father of lynched army officer Major Maxwell Adam Mahama) at a firing range, apparently executing people.
The GAF, in a statement signed by MA Larbi, Commander, for the Director Public Relations, described the circulation of the picture and an accompanying audio that claims one of the shooters if Captain Chubby Adam Mahama (rtd), as a "malicious act of deliberately trying to link the family of the deceased officer to the action portrayed in the photograph."

Major Mahama was gruesomely killed by residents of Denkyira-Boase in the Central Region about two weeks ago. The residents claim they mistook him for an armed robber and lynched him in the process. He has since been buried with full military honours.
According to the GAF statement, the picture and audio circulating on social media are "totally false and aimed at maligning the family and bringing its name in particular and that of GAF as a whole into disrepute in the wake of a national tragedy."

"GAF wishes to emphasise that the material in circulation is false and should be completely disregarded," the statement emphasised.