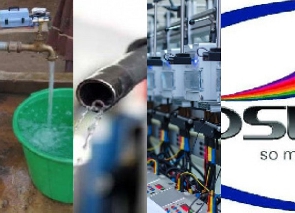 The economic hardship Ghanaians are facing seems not to have an end, with prices of goods and services continuing to increase.
The Ghana Statistical Service announced that prices of goods and services increased by over 54 per cent averagely in December 2022.

Yet again, a member of the group of service providers, including the Electricity Company of Ghana and the Ghana Water Company, announced an upward adjustment in their fee starting from February 2023.

Here is a list of tariffs, fees, and prices of goods that increased as of February 2023.

1. Electricity

Electricity tariffs increased by 29.96 per cent after being increased by over 30 per cent just six months ago.
2. Water

Water tariffs increased by 8.3 per cent, the second increment within six months.

3. Petrol

The price of petrol is expected to increase between 5 per cent and 8 per cent depending on the online marketing company. Petrol will be selling around GHC 15 per litre this February, an increase from GHC 13.58.

4. Diesel
Diesel prices will also see between a 5 to 8 per cent increase this month. Diesel which was averagely sold at GHC15.36 will now be selling around GHC17.

5. LPG (Liquefied petroleum gas)

The price of LPG gas is also expected to go up between 22 and 25 per cent. Gas was sold at GHC12.26 per kilogramme but will now sell around GHC 15 per kilogramme.

6. Value Added Tax (VAT)

The VAT rate which was previous 12.5 per cent is now 15 per cent after the government increased it by 2.5 per cent.
7. DSTV charges

DSTV charges were not left out of the upward adjustment in the prices of services. DSTV Compact packages which were sold for GHC185 will go for GHC220, from February 15, 2023. Compact Plus packages which were sold at GHC270 per month will be sold at GHC325.

IB/BOG