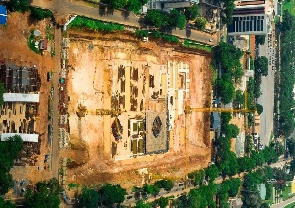 The National Cathedral project continues to court controversy despite the project having stalled over lack of funds.
The state has pumped in GHC339 million into the project so far with Parliament rejecting an GHC80 million allocation as contained in the 2023 budget.

A project hit by multiple controversies

The criticisms span from corporate governance issues, the relationship and power balance between the state and the Board of Trustees, the failure to raise private funds, accusations of lack of prioritization, resignations and allegations of financial impropriety.

The president Nana Addo Dankwa Akufo-Addo insists that the facility, currently estimated to cost US$350m, will be built despite the opposition and challenges, his last public contribution to the project was a sum of GHC100,000.
Proponents for and against location of project

One of the key criticisms against the project is the fact that the state opted to situate it in a prime part of the city. The defense has been that God must be given what is best and that it was not right to take the facility of that stature outside of the capital.

For some critics, aside the location, they are concerned about the fact that extensive demolitions of existing structures to make way for the project.

North Tongu Member of Parliament Samuel Okudzeto Ablakwa and Kwesi Pratt Jnr, Managing Editor of the Insight Newspaper have recently lambasted government over the demolitions that took place sometime in 2019.
What are some of the buildings demolished to make way for the National Cathedral?

One of the most spoken about buildings affected by the demolitions, when the issue comes up, is the residential complex for Appeal and Supreme Court Justices. They were located to the African Union Village to allow for the demolition.

Other demolished facilities according to GhanaWeb checks are:

a. The Scholarship Secretariat
b. The Passport Office

c. The Judicial Training Institute

c. Waterstone Realty Apartment Complex – this private company as of early December 2022 had dragged government to court over non-payment of agreed compensation and are seeking judgment debt to the tune of GHC120 million.

d. The residence of the Malian Ambassador
e. Offices of ComSys, a communication services provider

f. Offices of the African Centre for Economic Transformation (ACET), an economic research institute

The last two were earmarked for demolition in 2019 but GhanaWeb is yet to independently verify whether they were eventually demolished.

SARA/SEA