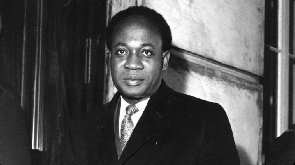 The Kwame Nkrumah Memorial Day is celebrated every September 21 to remember Ghana's first President, Dr Kwame Nkrumah.
The day, which is also the birth date of Dr Kwame Nkrumah, was celebrated as the Founder's Day under the John Dramani Mahama government, to commemorate the former president's contribution to the fight for Ghana's independence and the country's development.

Dr Nkrumah went into exile after he was removed from power by the military on February 24, 1966.

In his last address to Ghanaians while in exile in Guinea, the first president of Ghana accused those who removed him of denying Ghana's economic independence.

He said that coup-makers who did not even want Ghana's independence have destroyed all the gains the country had made over the past 15 years.

Dr Nkrumah also said that coup-makers gave a vague excuse of him putting the country into debt for their "treacherous act".
He added that all the monies he borrowed were invested in projects that would help Ghana gain economic independence.

Below is a transcribe of Nkrumah's last message to Ghanaians:

My heart is heavy as I witness the damage, which this group of neo-colonialist conspirators are doing to our country. At the bidding of their overseas, neo-colonial masters, they are dismantling the wake of 50 years.

They are telling you that Ghana is bankrupt. They are telling you that our country is indebted to the exchange of some 240 million pounds. What fools they are? How ignorant for them to think that you would believe these stupid lies. Open your eyes and look around and see for yourself. See the splendid new town hall, see the mighty water dam, see the fine roads which we have built under the leadership of the Conventions People's Party and its government. See the schools and colleges and universities; see the clinics, hospitals, health centres and the facilities which we have created.

See the factories which are already springing up. These are no debts. These are not debts. They are investments in our future as an independent nation. These are the physical guarantees of the bright new future, which I have promised you and I have been working for. Together we can put our Ghana, firmly and squarely on its own feet. Together, we can create the things we need ourselves instead of going, cup in hand, for charity handouts from foreign powers, whose only wish is to exploit us and make us vessels to their interest.
I know these are hard and trying days for you. I have never tried to conceal from you that real independence, that is to say, economic independence, does not come without struggle and sacrifice. Unlike the cheats and deceivers, the liars and traitors who are now trying to lord it over you, I have never promised you any easy road.

I have respected your good sense, your capacity for work, your pride in yourselves and your sense of national dignity. Why do you think these traitors, these agents and lackeys of colonialism and of international intrigue to restore the independence of Ghana, chose this moment to perform this (sic) act? I will tell you.

Less than one month before struck to destroy all our hard work we had inaugurated the first (sic) from the Volta Dam. Only three days before this treachery, we had signed a new agreement to irrigate the might, Afram Plains. At last, we were on the threshold of a great new victory, we had in 1957 our political independence after years of struggle. Now in 1966, we were at the threshold of winning our economic independence.

The same people who tried sabotaging our political independence, nine years ago, have now sabotaged our economic independence and are systematically dismantling our socialist gains and achievements. Before the traitors and the rebellious National Liberation Council tried to take power through my absence from Ghana. Ghana was a haven to which the oppressed from all parts of Africa would come to carry on their struggle. It was a haven for freedom fighters, for independence and against colonialism. The name of Ghana was revered on the African continent as a stanch friend of the oppressed, our African brothers from South Africa, from Mogadishu, from Mozambique and Angola, from the so-called Portuguese Guinea and Cape Verde Island and other oppressed colonial areas for you given hospitality amongst us.

Do you think that this is something of which we need to be ashamed, not at all. On the contrary, it should be something of which we should be justly proud. Haven't we proclaimed that the independence of Ghana is meaningless until it is linked up with the total liberation of Africa? Now, hundreds of these brave freedom fighters who came to us and trusted us to look after them and help them in their struggle against colonial oppression and believing us we do, that Africa and the struggle for freedom is indivisible. These brave men and women have been sent back, bagged and beggared, by these traitorous groups to the country from which they have fled to seek refuge, inspiration and protection.
Countrymen, a new face of the African revolution has been reached. This revolution must overcome and triumph over imperialism, racialism and neo-colonialism. It must finally usher in a total emancipation and the political unification of our continent. Africa must be free. Africa must be united.

Listen to Nkrumah's final address below:



BAI/OGB

Watch the latest episode of Everyday People on GhanaWeb TV below:


Ghana's leading digital news platform, GhanaWeb, in conjunction with the Korle-Bu Teaching Hospital, is embarking on an aggressive campaign which is geared towards ensuring that parliament passes comprehensive legislation to guide organ harvesting, organ donation, and organ transplantation in the country.

Click here to start the nomination process for the 2023 GhanaWeb Excellence Awards