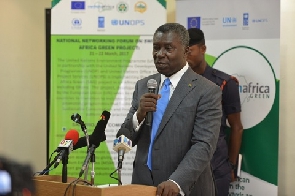 A former Minister of Environment, Science, Technology and Innovation, Prof Kwabena Frimpong Boateng, has named members of parliaments and top government officials who are allegedly involved in illegal small-scale mining (galamsey) in Ghana.
Portions of a report on illegal small-scale mining (galamsey) in Ghana by Prof Frimpong Boateng, indicated that these MPs and government officials were either directly involved in galamsey or were using their power to protect relations who were involved in the menace.

The 36-page report, which Prof Frimpong addressed to the Chief of Staff and the Ghana Police Service, according to myjoyonline.com, implicated the former MP for Manso Nkwanta, Joseph Albert Quarm; director of operations at the presidency, Lord Commey; executive assistant and head of social media at the presidency, Charles Nii Teiko; and Frank Asiedu Bekoe, director of political affairs at the Office of the Chief of Staff.

"He (the former NPP MP) used his position as a member of the Minerals Commission to acquire several dozens of large-scale concessions in his district, ostensibly for community mining purposes. He ended up selling these concessions to private individuals, including party members for GH¢2000 per concession.

"Throughout our struggle with illegalities in the small-scale mining sector, what baffled me was the total disregard of the president's commitment to protecting the environment. I can state without any equivocation that many party officials from the national to the unit committee level had their friends, PAs, agents, relatives, financiers, or relatives engaged in illegal mining. Most of them engaged Chinese working for them.

"There are appointees in the Jubilee House that are doing or supporting illegal mining or interfering with the fight against the menace. Examples are Lord Commey, Charles Nii Teiko, and Frank Asiedu Bekoe (Protozoa)," parts of the report read.
The report also indicated that members of the opposition National Democratic Congress (NDC) had also acquired several mining concessions, especially in the Western Region.

"In the Wassa East District, a former NDC Deputy Minister who is also MP for the Wassa East constituency has been actively mining in the Subri forest for years," the report also stated.

Read parts of the report below:




Meanwhile, watch the latest SayItLoud episode on GhanaWeb TV below:






IB/DA