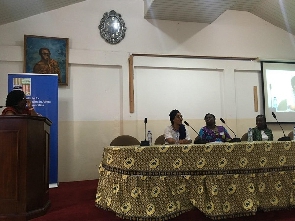 Sun, 5 Mar 2023 Source: Eli Djomekou, Contributor
The Merian Institute for Advanced Studies in Africa (MIASA) has organized a public roundtable discussion for twenty early and mid-career female academics on the continent.
The discussion forms part of a three-day annual workshop on female academic careers in the Social Sciences and Humanities.

It was held in collaboration with the German Historical Institute Paris (GHIP) and the University of Ghana's Centre for Gender Studies and Advocacy (CEGENSA) on the theme, "positioning and preparing oneself for leadership in Academia".

Speaking at the opening ceremony of the roundtable discussion, Co-Director Ghana at MIASA, Dr. Grace Diabah noted the event comes to groom, educate and mold young female academics to lead in their field.

"This roundtable offers a platform for women in academia to share ideas and experience which can encourage more female academics in Africa to take up leadership roles and or excel in their various roles. We believe that it will also serve as a platform to educate especially our early and mid career female academics to be better prepared and positioned to take up leadership roles," she said on February 16, 2023.
On her part, Co-Director Germany MIASA, Dr. Susann Baller revealed that the selection committee received over seven hundred applications from female scholars across Africa.

She added that the event intends to tap into the experiences of excelling female academics for the benefit of the younger ones.

Director of the Centre for Gender Studies and Advocacy (CEGENSA) UG, Dr. Deborah Atobrah disclosed that the centre plans to launch a long awaited Gender policy for members of the university community in March 2023.

"CEGENSA promotes policy development, and we have our sexual harassment policy and we will also launch our gender policy next month [March 2023]. That's a great feat. The policy helps us to package everything and codify it into the University systems," she stated at the J. H. K Nketia Conference Hall, University of Ghana.
Dean of the School of Performing Arts, Prof. Awo Mana Asiedu urged female academics to hone time management skills if they intend to hold leadership positions.

"I think leadership roles in academia demand a lot of joggling and so, time management is key. Sometimes I create the time myself. In order words, I assign students to reading materials and take advantage of that period to focus on my publications. I also employ the services of house help persons in a bid to save time," she shared.

Senior lecturer at the University of Ghana's Department of Social Work, Dr. Doris Akyere Boateng, said she advertises herself and pursues many dreams.

According to her, she always celebrates when efforts prove successful while describing the unfortunate alternative as a 'worst case'.
Here is the answer Dr. Boateng provided when participants highlighted familial and parental responsibilities that female academics are often saddled with.

"Don't try to be the best wife. The best thing you can do is to be a good wife to your husband. I got this hint from a book I read," she added.

Programme Director of the MA Culture, Policy and Management at City, University of London, Dr. Jenny Mbaye called on early and mid-career female academics to constantly reflect about their values, priorities while they apply for or occupy leadership positions.

The workshop offers time and space to discuss the challenges and opportunities for women in academia in African contexts.
Participants from Ghana, Côte d'Ivoire, Benin, Nigeria, Kenya, Zimbabwe and South Africa are accompanied by a professional coach through different modules.

The coaching aims at assisting participants to define their own working and leadership style, but also to consider how to adapt oneself to different contexts and challenges.

The overarching purpose is to develop strategies for keeping a work-life-balance that allows for prospering in one's research and academic work, and to become ready for taking up leadership positions and/or seizing other professional opportunities.


Source: Eli Djomekou, Contributor