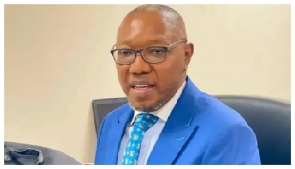 Deputy ranking member of the Education Committee in Parliament, Dr. Clement Apaak, has questioned government on the source of funding for the 'One-student, One-laptop' policy.
This comes on the back of the government's announcement that it will replace laptops with textbooks in Senior High Schools across the country.

Vice President Mahamudu Bawumia made the announcement while speaking at the 60th anniversary of Hohoe Evangelical Presbyterian Church celebration recently.

Commenting on the announcement, the Builsa South Member of Parliament stated that the government should be able to tell Ghanaians the source of funding for the laptops.
"This has not come to the notice of the Committee so we are wondering where the resource will mobilized the resources from because we are talking about in excess of 1.3 million students in the secondary schools. So each student is going to have a laptop. I am sure you can anticipate the quantum of resources."

"We are not even talking about the maintenance, the durability and the quality. So the issue is where will the funds come from, that is the big one," the Builsa South lawmaker asked on Starr News.

He continued: "Our second question also is with the one teacher one laptop policy not all the teachers have received their laptops. Although that has been paid for because the money we are being told is drawn from GETFund. So if you have not been able to conclude the laptop per teacher what is the guarantee that you are going to be able to do for 1.3 million students? Where is the money coming from we need to know."