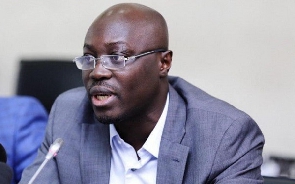 Failure of Members of Parliament to show up in the house for debates on the 2020 budget clearly shows how hard the country is, Cassiel Ato Forson, MP for Ajumako-Enyan-Essiam Constituency believes.
According to him, the recent hardship is the same reason most MPs of the majority side abandoned the Finance Minister in parliament to debate on the 2020 budget.

The speaker of parliament, Prof. Mike Ocquaye on Tuesday November 19, suspended sitting for 30 minutes due to the absence of some members of the house.

This is day two of the 2020 budget debate and as at 10am when the proceedings were expected to begin, only a hand full of MPs were present.
The Speaker, therefore, suspended sitting for a while and met the leaders of both Majority and Minority to discuss the attitude of members towards business proceedings.

At the back of this development Member of Parliament for Ajumako-Enyan-Essiam said that MPs failure to show up indicates things are not going well in this country.

"The government side of this house decided to abandon president Akufo-Addo's budget as at yesterday. You could count the number of MPs that debated their own budget yesterday. I thought the situation would have improved today, but today is worse to the extent that the Speaker of parliament had to suspend sitting. I don't think it's good enough. It shows the despondency level in this country, it shows the level of hardship in this country. It shows not only the ordinary Ghanaians are complaining even the MPs aren't happy." He said