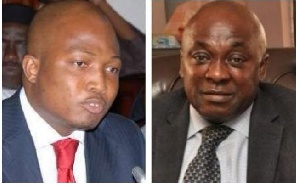 It took the timely intervention of Tamale North Member of Parliament (MP), Alhassan Suhuyini, to prevent a near brawl in parliament on Tuesday, December 19 over claims that expatriate businessmen paid $100,000 to sit at the president's table at a recent event.
Deputy Trade Minister, Carlos Ahenkorah clashed with North Tongu MP, Samuel Okudzeto Ablakwa over claims that expatriate workers in the country were billed to sit on the same dinner table with President Akufo-Addo.

During the debate of budget estimates for the Trade Ministry, Minority Chief Whip, Alhaji Muntaka Mubarak said the Ministry sold access to the President during the recently held Ghana Business Expatriates awards.

A ranking member of the Foreign Affairs Committee, Mr Ablakwa, described the act as appropriate but that interview was interrupted by the Deputy Minister who is alleged to have consented to the payment by the expatriate business executives.
Tempers flared at this stage as Mr Ahenkorah verbally assaulted Mr Ablakwa leading to the latter being whisked away from the scene by Alhassan Suhuyini.

The Deputy Trade and Industry Minister, Mr Ahenkorah at this stage decided to lay bare what he says are the real facts in the saga.

But he ended up further attacking the image and personality of Mr Ablakwa.