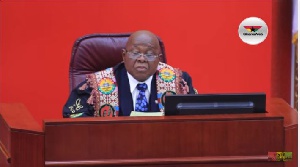 Speaker of Parliament Prof Mike Oquaye is adopting diplomacy in resolving visa fraud allegations against some Members of Parliament, Kate Addo, Acting Director of Public Affairs of Parliament, has said.
It will be recalled that the British High Commission accused some MPs of facilitating into the UK the entry of some supposed relatives, with such persons overstaying their visas.

The accused persons including Bia East MP Richard Acheampong, Asutifi North MP Joseph Benhazin Dahah, Ahafo Ano South West MP Johnson Kwaku Adu, and George Boakye, former MP for Asunafo South, were subsequently banned from entering the UK for 10 years. This led to the Speaker instituting a probe into the matter.

But speaking exclusively to parliamentary correspondent Ekow Annan, Madam Kate Addo said the Speaker is determined to get to the bottom of the matter through tact and diplomacy.
"We are not going to get a word on it from the Speaker, not because the Speaker is not doing anything about it, but as the Speaker indicated when the story broke, these are issues that are dealt with diplomatically," she stated.

"The Speaker regrets that the matter was brought in the public domain and he indicated to me that he would rather deal with it at that level, and so the matter will be dealt with. The Speaker has said that anybody who does anything that brings the name of parliament into disrepute, whether the person is a Member of Parliament or not will have to face the difficulties that come with that particular thing.

"But he is also committed to ensuring that Members of Parliament and their image or reputations are protected, so Mr Speaker will not just get up and act on any matter he's not certain on, that's why he's still in further conversations with the people that were mentioned in the situation as well as the embassy that mentioned them and is very patient with the matter, that at the end of the day when he takes a decision, it will be a decision that is fair to everybody."