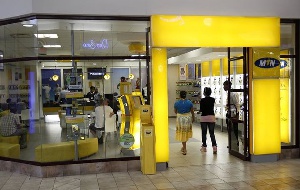 Telecommunication giant Scanscom Limited, operators of MTN Ghana, has earmarked about 145 million dollars for its 2017 expansion project geared towards improving the services of the mobile giant.
Corporate Service Executive of MTN Ghana, Cynthia Lumor told journalists in the Centra Region that the company seeks to make the MTN network the best option for Ghanaians with innovative and expanded platforms.

She said the huge investment into the company this year would ensure that customers get value for money in the services that they receive from MTN Ghana Ms Lumor said beside giving subscribers quality services and products, MTN is contributing to the development of the country and has offered jobs to about five hundred people.

The has also embarked on a number of social corporate responsibility across the nation, she said.
She urged the media practitioners to adopt the use of technology to enhance their work, especially in this modern era where technology plays a major role.

She also stated that MTN has a wide range of products for media practitioners to make their work flexible.

The forum bought together media personnel from across the Central Region to address concerns of clients of MTN, and was aimed at strengthening the relationship between the media and the company